Archive for the 'Strength Training Workouts' Category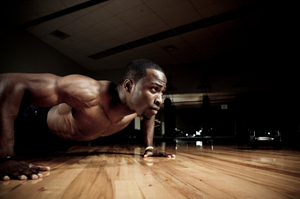 Fun, challenging and effective strength training workouts are an important part of producing fitness results. A favorite component of my chest strength training workouts is push-ups.
It may surprise you to know there are a lot of different ways to perform a push-up. Most often, push-ups are performed with momentum and little attention is given to body position or targeting a specific muscle group. People often drop their hips, scrunch their shoulders, or over-arch their lower back in order to squeak out a few more reps. This is because push-ups are often tested against time or the exerciser is attempting to do the maximum number they can before failure.
The form you use for push-ups should be dependent on your specific goal. For chest workouts, I teach clients to do push-ups while holding a neutral spine, stabilizing the shoulder girdle and isolating the chest muscles. Using this form is an effective way to use push-ups as part of your chest strength training workouts.
I used this push-up workout with a few clients to add something new and different instead of the standard flat bench or flat dumbbell press. I call it the 100 push-up challenge. The goal is to perform 100 (women 70) push-ups at the beginning of your chest workout.


Step 1: As many push-ups as you can do starting with perfect form and control, and allowing your form to slip only a little. Use your form as a guide: if you cannot hold decent form, then you've worked until failure.
Step 2: Perform 25 sit-ups as a recovery.
Step 3: Repeat steps 1 & 2 until you've done 100 total push-ups.
Note: If you're accustomed to doing push-ups, you may need to set your number higher than 100. Generally I've found that getting to 100 requires at least 3-4 sit-up breaks for most people.
Real Life Example
Set 1 = 40 push-ups; 25 sit-ups
Set 2 = 25 push-ups; 25 sit-ups
Set 3 = 18 push-ups; 25 sit-ups
Set 4 = 10 push-ups; 25 sit-ups
Set 5 = 7 push-ups
Push-ups are often overlooked as an effective means for strengthening the chest because they are such a simple body weight exercise. The truth is body weight exercises are an excellent addition to any strength workout and can also be used in substitution for traditional strength training workouts.
When done correctly, body weight exercises are challenging, realistic, and relevant to real world movement including functional movement and athletic performance. They require you to stabilize yourself, activate your core, and control your body position as the target muscle group becomes fatigued.
Even if you opt out of the 100 push-up challenge, I recommend incorporating some form of push-up into your chest strength training workouts as part of a super-set or as a simple warm-up before you being your standard workout. If you do decide to take the challenge, report your results back to me here, I would love to know how you did!
Let's jump right in…here is one method for training yourself to be able to do a single arm chin-up.
Start by testing yourself on how many chin ups and pull ups you can do unassisted.  If you can do 5-10+ chin ups, but no pull-ups, set a goal of 5-10 pull ups as a next step before trying the single arm chin up.  
As you incorporate pull-ups and chin-ups into your routine, start changing the grip you use during the pull-ups and chin-ups in order to increase overall strength.  Also, start integrating single arm movements into your weight training routine as well.  Remember to always focus on the target muscle group when performing body weight exercises (it's very easy to attempt using only the arms during pull-ups and chin-ups).  As I've said before, this can be achieved through focus on proper posture, form, and technique.  If you can incorporate proper form and technique into your workout and training, your progress toward a single arm chin up or pull up will be a lot faster.
Incorporating Pull-ups into your workout routine
If I were creating a plan for a client to achieve the single arm chin up, I would use a variety of techniques, starting with the easiest (such as machine assisted pull-up) movement and build around that.  The trick is to take an assessment of what you are actually capable of doing and then build from that point.
For chin-ups, that means having a day or two per week during which you target back muscles and focus on incorporating body weight exercises into each set.  You can vary the type of pull or chin up you do by changing grips, using a towel for a grip, reducing or increasing assistance, challenging total reps achieved, doing single arm weight training exercises, isometric holds, and more.  All of these will work together to build the strength and core control you need to reach your goal.
Personally, my next goal is to do an actual 1 (1 ½) pull-up (instead of chin-up).  If you're wondering whether or not you are capable of a single arm chin or pull up, don't worry.  There are plenty of methods for building strength and performing body weight exercises (even if you always use assistance).  Remember to a) vary your grip and hand position, b) use different rep ranges and resistance, c) use different types of grips such as a towel, bar, or rope.  Finally, always keep setting new and higher goals for your training.  Make it fun!  
If you have your eye on getting super fit, the single arm chin up is just one of the cool goals I can help you achieve.  I can help you either through a monthly workout plan, personal training, or both.  Just contact me and we can get started.
A few weeks ago I published this photo on Facebook of me in the process of doing a one-arm pull-up.  The truth is, what I am demonstrating is basically a 1 ½ arm chin-up.  In a true single arm chin up my right arm would be hanging down instead of putting the death grip on my left forearm.  But since this is my blog and I am all powerful when it comes to writing my own articles, I feel my 1 ½ arm chin up is challenging enough and looks cool enough to be labeled a single arm.  In this post I thought I would go over the basic progressions hows and how-to's necessary for building up to being able to perform a 1 ½ (or a true 1 arm if your lucky) arm pull-up.
When it comes to exercises like this, it requires some talent, dedication, persistence, and strength in order to actually do it.  For most people, and especially women, body weight exercises can be extremely challenging.  So if you aren't currently able to do a one-arm chin or pull-up, you should develop a plan that will lead you to building the strength and body control to do it properly.
The Basic How-To
The obvious first step in being able to do a single arm chin up is first mastering an actual chin-up.  If you have trouble with chin ups, you can use a band to assist you while doing them.  Using a band will make doing chin ups and pull ups more manageable because it 'assists' you with the movement by reducing the overall body weight you are pulling up.  If you feel hesitant about using a band on your own, most gyms also have a Gravitron/assisted pull up machine.  This machine allows you to adjust the amount of assistance to as much or as little as you want while letting you go through all the different motions of pull-ups, chin-ups, and dips.  A good intermediate goal would be to perform 5-10 unassisted chin ups.
So there I am doing one of the exercises I love, a one arm chin up.  It's a fun goal to achieve, mostly because of the strength and confidence you build within yourself while training to do it.  Even if you never quite get there, the journey towards goals like this are always inspiring and fun.  You can really learn something about yourself too.  If you are interested in developing your own plan for achieving things like this, send jes@jesreynolds.com an email and I can help you get started on your own path to success!  In my next post, I will suggest one technique that can be used to work towards the one arm chin-up.  Of course this is a generic plan and there are many ways to achieve this goal.  Email me if or leave a comment if you are serious about it and we can talk.